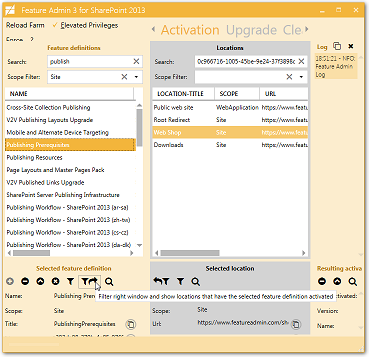 01.

About FeatureAdmin
The SharePoint Feature AdminTool
FeatureAdmin is a tool for SharePoint administrators and developers to manage SP features. It can find and clean faulty FeatureDefinitions and orphaned remainders.
The Feature Admin Tool finds faulty activated features or missing feature definitions and cleanly removes them. It finds feature remainders in sites, SiteCollections, WebApps and in the Farm, caused e.g. by forcefully uninstalled Features from a farm without deactivating them before. These faulty features are not visible, but they cause errors, e.g. during migrations.
The Feature Admin Tool is able to identify and remove them. Very useful for major version upgrades e.g. to 2016 or 2019, or for downgrades from Enterprise to Standard.
But the FeatureAdmin can not only clean or uninstall, it also supports (bulk) deactivation, (bulk) activation or upgrade of features with any scope up to farm wide. This is ideal, for activating or deactivating features in large farms with many sites and/or SiteCollections.
FeatureAdmin is open source. The first version was introduced on CodePlex in 2009. For further details, please also visit our GitHub repository.
For version 3, the code was completely rewritten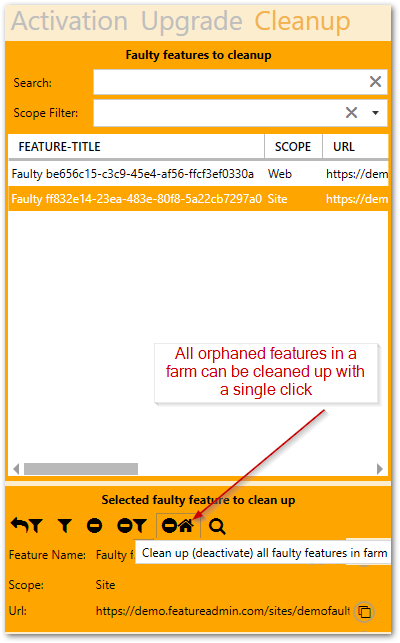 02.

Cleanup of faulty / orphaned features
Easily clean your SharePoint farm
Once you got familiar with the completely new user interface, you will love the efficiency of FeatureAdmin 3.
Auto collect farm data
All farm data is loaded as soon as FeatureAdmin is started.
Comfortably clean up your farm
In the tab "Cleanup", all orphaned / faulty features of a farm are listed. You can clean all of them up with the click of a button.
03.

Donate
Support Open Source
Please support and honor our current and future development. Please keep in mind, FeatureAdmin is built to save a lot of time and solve business critical problems.